When comparing the price of lessons at other schools, we recommend that you consider some of the following: Are the teachers experienced, or are they new to the field? Are they up to date on modern music and education, or are they stuck in the past? Does it really help you to have lessons in your home, or does going to a separate location actually make the lessons better?
For summer 2022, we have a variety of offerings range from a daily week long camp to several multi-week programs. REGISTER HERE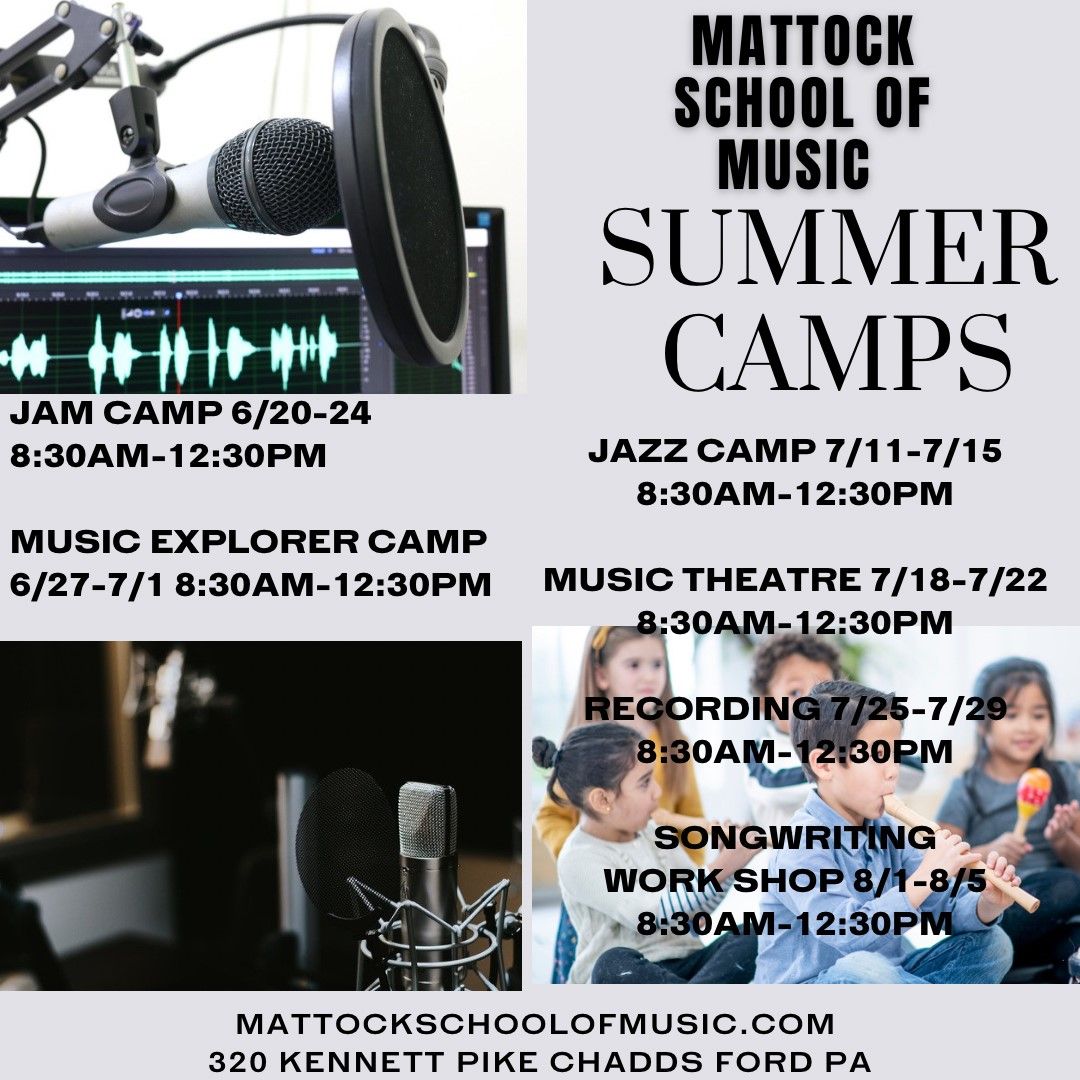 INTRODUCTION TO THE STAGE!
This 4-week class will introduce you to the basics of acting including ensemble building, character creation, improvisation, scene work and more!  This will be a no pressure, mistake encouraged environment, perfect for anyone from those just testing the waters to veterans of the stage. Join us to meet other actors, get comfortable performing, build your skills and most important, have fun! REGISTER HERE
Saturday March 5, 12, 19 & 26th:  $110
Ages 7-11 9:00am-11:00am
Ages 12-16 11:30am-1:30pm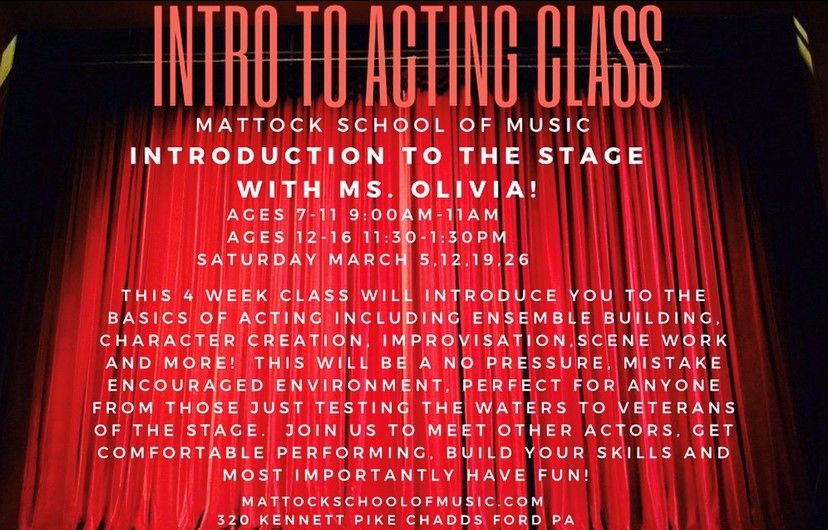 The group setting is ideal for adult beginners who are looking for a stress free, fun environment in which they can learn about music as well as interact with other interested adults. We offer group lessons in ten week semesters starting the first week of March, June and September. Each class of the ten is an hour long and consists of between 4-6 adult students. Beginner and intermediate level classes are both offered depending on enrollment. Beginner classes will focus on technique, note reading, ear training, and duet and group playing. Intermediate level class will continue the education given in the first semester while adding more repertoire based on the interests of the students. End goal is to give students a start to their musical interests in a non-traditional setting. Although group participation requires a certain amount of input from every member, no students are forced to perform in front of others if they do not want to. Many opportunities are provided for students to learn in "private" (ie with headphones at a keyboard or practice at home) as well as in the group setting. Group lessons are designed to be a safe place for beginner and intermediate students to learn and have fun with music.
$200 per student for ten week session
One hour long weekly class
Class size is between 4-6 people.

For exact start dates and to enroll, fill out the registration form.
For those students who are planning on making a career out of music and are thinking about auditioning for college music programs, our teachers are happy to steer them in the right direction. The teachers at the MSOM are all alumni of great schools, professional musicians, AND professors at some of the best local music programs. We know what it takes to get into a good school and we can show you how to get there.  At the end of your college prep session a college audition tape will be recorded with you. Pricing is the same as normal private lessons, but it is recommended that students study with their instructor more often.
Students interested in making a college audition tape or demo for themselves or their bands can now do so at the Mattock School of Music. We offer the use of our recording studio facilities with up to 16 input recording using Pro Tools 11 with a professional recording engineer. We  have a wide range of equipment that students can use for recording, including five different guitar amps, two bass amps, a piano, a Hammond organ, many different keyboards and synths, a four piece and a six piece drum kit, tons of pedals and effects, and a wide variety of microphones.

College Audition Tape:
$30 per hour
Receive one free hour of recording time with a semester of lessons.
Most recordings can be done in 1 hour.

Note: Professional accompaniment
(bass, drums, piano)
can be added for an additional fee.

Band Recordings:
8 Track Live Recording: $60 first hour
$30 each additional hour

16 Track Recording*: $80 first hour
$40 each additional hour
* Includes minimal overdubbing