Mattock School of Music is extremely excited to announce that we have partnered with Brandywine Valley Sports and Recreation for some of our classes.  We follow the same principals as we love to support our community with positive and fun learning experiences of all types.  We hope to bring that to you and more.  Come join us in these new programs and check out BVSR's Website to see what else they offer.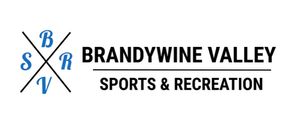 Calling all kids. Come bring your creative minds and enjoy making art with friends. Painting, playing with clay, drawing and more!  Every 3rd Saturday of the month.  12-1pm.  All ages welcome.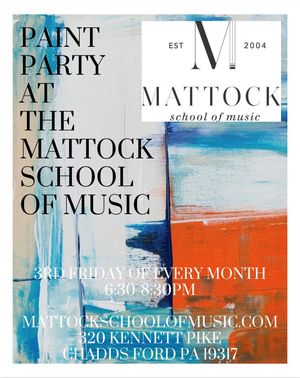 Bring your friends and have a fun evening learning how to paint. Adult painting class. Must be age 21+.  BYOB!  Every 3rd Friday of each month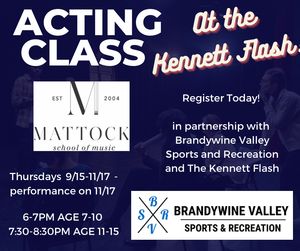 Calling all actresses and actors. Join us for a fun filled 10 weeks of acting classes followed by a performance on 11/20.  This class will introduce you to the basics of acting including ensemble building, character creating, improvisation, scene work and more!  This will be a no pressure, mistake encouraged environment, perfect for anyone from those just testing the waters to veterans of the stage.  Join us to meet other actors, get comfortable performing, build your skills and most important, have fun!   
9/15-11/17
6-7pm Ages 7-10
7:30-8:30pm Ages 11-15
Location: The Kennett Flash 102 Sycamore Alley, Kennett Square PA 19348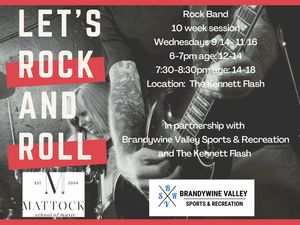 Let's Rock! Calling all intermediate and advanced students. Looking for players to join our rock band. Join us on Wednesdays 9/14-11/16.  
6-7pm ages 12-14
7:30-8:30pm ages 14-18
Location: Kennett Flash 102 Sycamore Aly Kennett Square PA 19348