Allyson Starr: flute, piano, ukelele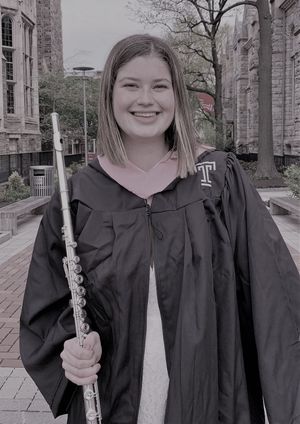 Allyson Starr is a flutist and music theorist based in Philadelphia, PA. She holds a BM in Flute Performance and Music Theory from Temple University's Boyer College of Music & Dance and is currently working towards her MM in Music Theory. Allyson has been playing the flute for 15 years and has performed with numerous ensembles, including: The Temple University Symphony Orchestra; Temple University Wind Symphony; Temple University New Music Ensemble; and countless chamber ensembles. She also frequently performs in the flute group, Philly Phlute Duo, which was named as a finalist in Temple University's annual Concerto Competition in 2019. Furthermore, her woodwind trio's performance of Jeff Manookian's Khustup Mountain Dances has been recognized by the composer as an official reference recording.
Throughout her undergraduate career, Allyson studied flute under Dr. Adeline Tomasone and performed in numerous masterclasses with flutists such as Bonita Boyd, Erica Peel, and Marina Piccinini. While in high school, Allyson was a frequent attendee of PMEA festivals, participating in the district, region, and all-state levels. In her extensive Music Theory studies, Allyson has conducted research on various topics. Her paper, "Slow Burns and Performance Practice: A Not-So Rapid Analysis of Jennifer Higdon's rapid.fire" was presented at Temple University's 2021 Symposium for Undergraduate Research. Her original composition, echoes for flute and bassoon, was performed at Temple University's Wind Symphony concert on November 13th, 2020.
Allyson loves the excitement of learning a piece, as well as the opportunity to share this experience with others. Some of her favorite composers are Higdon, Prokofiev, Shostakovich, Tchaikovsky, and Varèse. Allyson has five years of teaching experience and has worked with children of all ages! She believes that taking music lessons should be a fun experience, which is why she chooses to create an individualized curriculum for each student. While developing fundamental skills, students will choose a musical path that resonates with their personal goals. By learning the students' expectations, and passions, Allyson will foster an environment which will allow for the students' love of music to grow!
To listen to Allyson play, please visit her website:
Adeline Cho: voice & violin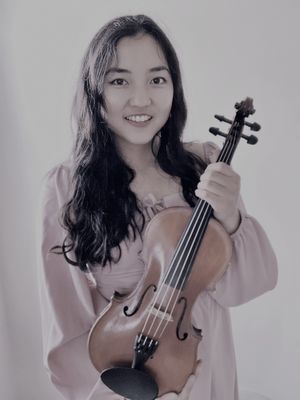 With over 15 years of singing experience, Adeline is a versatile singer. She performed Musical Theatre, Korean Pop, American Pop, Opera/Classical, Jazz, CCM (Christian Contemporary Music). Mezzo-Soprano, Adeline Cho, performed in concerts, church services, musicals, and festivals throughout Pennsylvania, Delaware, New Jersey, and the northern Maryland region.
Adeline Cho built her reputation as a vocalist after winning 1st place at the 2020 Korean Liberation Day Talent Contest, 2nd Place at the Korean American Talent Contest 2017, and as a 3rd place winner of the Korean Liberation Day Singing Contest 2017. In addition to her vocal performing experience, Adeline has been the main vocalist, guitarist, and a backup vocalist with many worship bands. When the opportunity came, she donated her talent for mission-funding festivals, benefit concerts, and special occasion church services.
From playing violin with an orchestra to creating on-the-spot chord improvisations with Christian rock bands, Adeline has played a wide variety of musical genres throughout her violin performing experience. These genres include Musical Theatre, Classical, Bluegrass, Jazz, Christian Contemporary, and Improvisation. She is in demand as a collaborative artist. Furthermore, Adeline actively performs for weddings, special occasions and banquet ceremonies as part of her wedding music entertainment business, Beautiful Enhancements.
Along with her performing credentials, she taught young children (ages 7-11) as a summer instructor and as a music instructor for choral and string ensembles at Delaware Korean School for 2 years. Adeline currently teaches private voice and violin lessons to beginner, intermediate, and advanced students. Her goal in lessons is for each of her students to gain confidence in their instruments by building strong foundations and help them enjoy music. Adeline is a graduate of Lancaster Bible College's Bachelor of Music program.
Olvia Dilorio: Theatre arts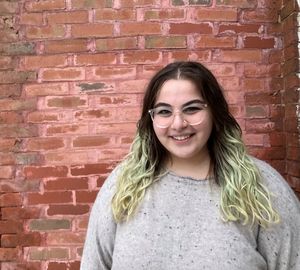 Olivia DiIorio is in her final semester as a Theatre Major with a concentration in Design, Technology & Management, and a Minor in American Sign Language at West Chester University. In her time at WCU, she has worked on ~20 productions holding positions such as performer, director, stage manager, playwright, and designer. Some of her favorites include Phyllis in Keep the Change, various roles in House Arrest, director for Rocky Horror Picture Show, hair and makeup/SFX prop designer for Macbeth, and stage manager for The 21st & 22nd Annual Broadway Cares/Equity Fights AIDS Benefits! She has training in technical theatre, acting, voice, musical theatre, and more, and is proud to be the Vice President and Co-Treasurer of the Rho Mu Cast of Alpha Psi Omega National Theatre Honors Fraternity for her leadership, and academic and theatrical achievements. She is a theatre camp/class veteran (student and teacher!) who is looking forward to meeting MSOM students and sharing her passion for theatre!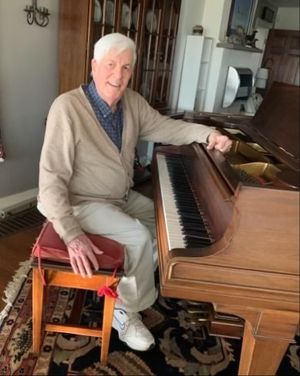 Donald Stuart Armstrong (or Stuart Armstrong as he is known in music circles) is currently a piano teacher at Mattock School of Music.  He enjoys teaching every level of student, because teaching has always been his favorite gig. He also has a special love for performing, and his earliest jobs were playing jazz at a restaurant lounge in New England and playing with small bands on the West Coast.
 Armstrong grew up in Newark, Delaware. Having attended Newark High School, he was a  member of the Concert Choir for all four years. Having graduated from Newark High, he attended the New England Conservatory of Music in Boston, Ma.   In his third year at the Conservatory, he also received private lessons at the Berklee School of Music. There he studied jazz privately, with the well-known jazz musician and professor, George Brambello. 
Armstrong left Boston and headed for Hollywood, Ca. He quickly became the pianist for several travelling bands. They took their shows throughout the West Coast, including major stops in Nevada, New Mexico and California. This was also the time when the United States Draft Board was in its final days, and inevitably Armstrong received a draft notice. He hustled home to his local Draft Board in Delaware. He was told by them that he would be in the infantry or artillery. Armstrong explained to them that music was his primary career goal, and he would like to be in the US Army Band.
Armstrong was accepted into the United States Army School of Music at Fort Dix, NJ. That's also where he completed basic training. While in the Music School, he found that his prior education at the New England Conservatory enabled him to help other new band recruits. As he coached them, it was Armstrong's first hint that he enjoyed teaching.
After graduation he was shipped out to Munich, Germany where he became the piano player for the 30th Army Band, stationed in Munich. The Army Band toured extensively throughout Germany and Switzerland. It was good PR for the USA.
Armstrong formed his own band while on the base in Germany. Comprised of musicians from the Army Band and German civilians, the band performed at many Army & Air Force clubs in Munich, as well as spots in the German and Swiss Alps. After the three years had ended, Armstrong came back to the USA. He enrolled at the University of Delaware and completed his BA degree, majoring in Music.
With California still on his mind, he took a job with the Los Angeles School District and taught Music at San Fernando High School. He was only there for one year when he realized how far he was from family, and how much he missed the change of seasons. Armstrong then accepted a job with the McKean School District in his home state of Delaware.
 While teaching music at McKean, he became choir director, and directed the McKean High School Jazz Band. He instituted yearly tours for the Band and Choir. They performed in cities that ranged from Quebec, Canada, to Miami, Florida. Armstrong led the choir on a sixteen-day tour to Europe. In another year, he took the Choir to sing on a 16-day Mexican trip (ending in Acapulco). The Choir also experienced a unique week performing on a cruise ship in the eastern Caribbean.
In 1980 he was honored to become choir director of the American Youth Jazz Band and Chorus.  Between 1980 & 1981 he performed with this highly acclaimed group in Yugoslavia, Italy, Luxenberg, Switzerland and Germany.
From 1969 through 1991 Armstrong taught music in the school system, while playing nightclubs in Pennsylvania, Maryland, & Delaware. He appeared with a variety of Big Bands, such as Buddy Morrow, and Tommy Dorsey.
Following the years in the school system, Armstrong turned to his first love: private teaching. He has been teaching exclusively privately since he has been retired. Many of his students have gone to universities and conservatories to prepare for careers in music.
​​​​​​​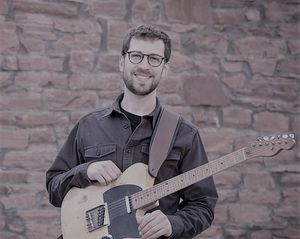 Eli Pointer is a guitarist, composer, and music educator based in Philadelphia, PA. Specializing in jazz, rock, and folk guitar, Eli channels his diverse musical background into innovative, genre-blending performances and compositions. Originally from the Colorado Front Range, he spent his formative years performing regularly at Colorado festivals, music venues, and restaurants, showcasing original music and jazz-inspired renditions of rock classics. Beginning guitar at the age of nine, Eli has studied with several master-level musicians including Kevin Karrick, Mark Sloniker, Bill Pohl, Mike Hyland, Sean McGowan, Will Brahm, and Dave Allen. Above all, Eli believes in music's expressive ability and power to bring people together.
Eli has over 10 years of teaching experience, working with guitar students of all ages and skill levels. Because learning guitar demands large amounts of time and attention, Eli believes the process should be fun, engaging, and fulfilling! He does not teach a standardized curriculum. Instead, he is interested in getting to know his students and their individual goals as musicians. Only then can he create a student-centered curriculum that teaches the foundational principals of music while exploring the student's interests at the same time. Eli is ready to help you define your goals and guide you along your musical journey!   You can hear Eli play on his website  https://elipointer.com/
Kay Greer: trumpet & french horn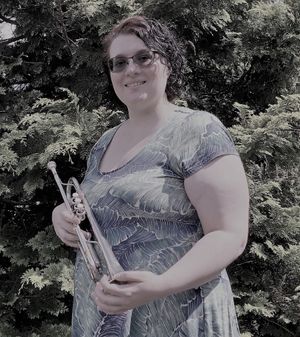 Kay Greer is a trumpet and French horn player from the Southern Chester County Area.  She holds a Bachelor of Arts degree from Indiana University of Pennsylvania with a focus on the instrumental trumpet. Kayla had the privilege of performing at the Orvieto Musica Trumpet festival in Orvieto Italy as a member of a trumpet quintet. In addition, she has performed with members of the IUP faculty in their Keystone Chamber Wind Ensemble, and has enjoyed working as a freelancer while studying in Indiana PA. Kayla's favorite composer is John Williams, and she also enjoys playing a wide variety of genres including contemporary, classical, and jazz.  She is looking forward to teaching and encouraging students to expand their instrumental ability and love of playing.
Pat: guitar & upright bass
Ken Miller: saxophone, trumpet, trombone, clarinet, flute, guitar
Jason: guitar, drums, bass
Tom: audio engineering, production
Dave: piano, hammond organ, keyboards