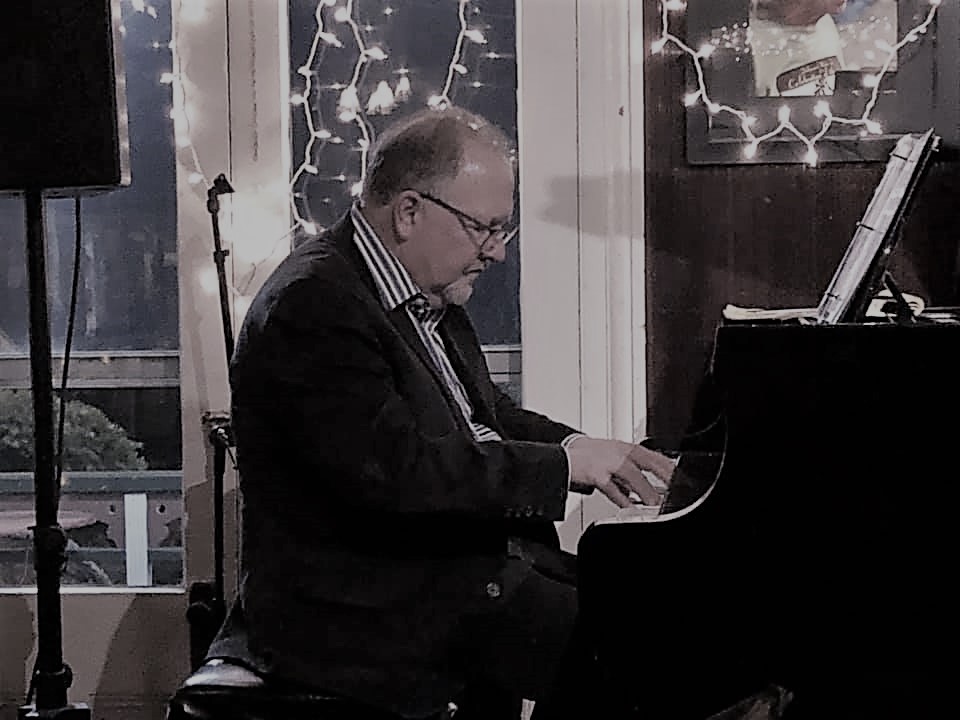 Richard Burton began studying piano in Chicago when he was eight years old with James Noland. At age twelve, he began playing the organ in rock dance bands with high school and college students. He moved to Wilmington
where he studied piano with Margaret Littell at the Wilmington Music Schooland at the University of Delaware with pianist, Michael Steinberg. Richard played in cover bands Orion, Life and Circuit in his college years. He graduated from the University of Delaware with B.A. of Music.
   After college, he continued to study jazz piano with John Southard and Joanne Brackeen. He has studied extensively with the composer/pianist Ron Thomas.
   He has performed locally as a solo pianist over the past 40 years. Richard performed with wedding bands Con Brio and Family Affair. He has worked as a pianist/organist at Calvary Lutheran Church in West Chester and Nantmeal Methodist Church in Glenmoore. 
  In 1998, Richard began his recording company, Vectordisc to document original jazz and classical music artists.
     Richard has been writing music since he was a teenager recording several CDs under his own name (Simple Major Simple Minor (2006), Fat Samba (2011), Darkness to Light (2018) and Hope/Resist (2020). He has performed on CDs by Bill Goodwin, Clarice Assad, The Reese Project, Ray Ferretti, Kristin Garson and Ron Thomas.
     Richard has been teaching piano to students of all ages since he graduated from college. He believes that great music will not live on unless we share it with the younger generation. Learning to play a new piece of music is one of the most rewarding activities that you can imagine.  
Matti Beresin: guitar, music production, song writing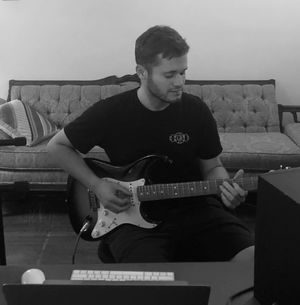 Matti Beresin is a professional music producer, composer and musician born and raised in Philadelphia, Pa. He began his music studies at Philadelphia's Clef Club of Jazz and Performing Arts. Matti studied guitar at the Philadelphia High School for Creative and Performing Arts, and received his Bachelors from Temple University in Media Studies and Production. He has played guitar for over a decade, produced for over 8 years, and recently received a RIAA Gold Certification in March of 2021. 
To hear some of the music he has been a part of you can visit: https://genius.com/artists/Matti-free
Adrianna McCaw: Piano & Voice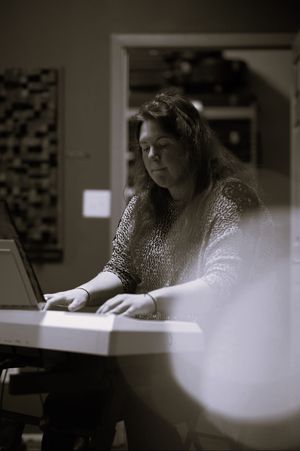 Adrianna McCaw is an accomplished pianist, vocalist, composer, and songwriter based in Chester County, PA. She graduated Summa Cum Laude from West Virginia University's College of Creative Arts with a Bachelor of Multidisciplinary Studies degree with emphases in Music, Music Industry, Theatre, Religious Studies, and History. During her time at WVU she studied Music Composition under Dr. Matthew Heap, writing original chamber, choral, and solo pieces, as well as an original album of Contemporary Christian songs entitled Enough, which was released in July 2022.
On piano, she has accompanied both vocal and instrumental soloists, as well as numerous church, school, and university choirs, performing in places such as the Pennsylvania Capital Building and Hershey Park. Vocally, Adrianna has performed with the West Virginia University Women's Choir, Community Choir, and auditioned Chamber Singers, as well as been featured as a vocalist in bands across eastern Pennsylvania and northern West Virginia. Her original choral pieces have been performed by multiple school and church choirs in the area, as well as by the West Virginia University Community Choir. Adrianna also has experience with the music and recording industry, working in a studio setting as a musician, vocalist, and producer.  
Adrianna has taught many music students of varying ages and skill levels on a variety of instruments and believes in fostering a passion for music and performing from a young age. She has experience performing, composing, and teaching many styles and genres of music, including Musical Theatre, Pop, Rock, Classical, Christian/Gospel, and Jazz. She focuses on individualized learning and creating an environment where students can reach their full musical potential.
 Listen to Adrianna's debut album Enough on YouTube here.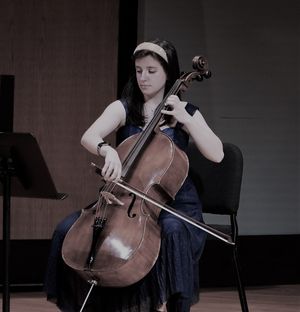 Born and raised in Oak Park, Illinois near the Chicagoland area, Emma Sullivan has had the privilege of exposure to Classical Music her entire life. After five years of formal cello lessons, she enrolled in Merit School of Music's Tuition Free Conservatory at the age of 14. There she studied cello under Herine Coetzee Koshak and Christopher Fiore and was eventually given the opportunity to play in Merit's Honors String Quartet, a competing chamber ensemble that represented Merit School of Music in Masterclasses and other events. Upon her graduation, she was awarded the Neal Abarbanell College Scholarship.
At Drake University, where Emma received her Bachelors in Music Performance, she was a recipient of the LaVerne Sedrel Briggs Endowed Cello Scholarship through her Cello Professor, Dr. Ashley Sidon. She went on to complete her Master's in Music at University of Delaware, studying with Dr. Lawrence Stomberg. Throughout her musical education, she has had the privilege of performing in master classes with musicians such as Matt Haimovitz, Zlatomir Fung, Yo-Yo Ma, and Anthony Ross.
Now an active performer, Emma's musical passions include playing chamber music and teaching cello.  She has taught a variety of students, in terms of skill level and ages, both online and in person. Through her positive attitude and tips for a healthy practice mentality, she strives as a teacher to ensure that her students are always proud of their work while also helping them to develop their technical skill in the practice room.
Allyson Starr: flute, piano, ukelele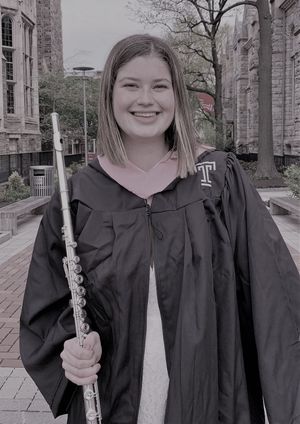 Allyson Starr is a flutist and music theorist based in Philadelphia, PA. She holds a BM in Flute Performance and Music Theory from Temple University's Boyer College of Music & Dance and is currently working towards her MM in Music Theory. Allyson has been playing the flute for 15 years and has performed with numerous ensembles, including: The Temple University Symphony Orchestra; Temple University Wind Symphony; Temple University New Music Ensemble; and countless chamber ensembles. She also frequently performs in the flute group, Philly Phlute Duo, which was named as a finalist in Temple University's annual Concerto Competition in 2019. Furthermore, her woodwind trio's performance of Jeff Manookian's Khustup Mountain Dances has been recognized by the composer as an official reference recording.
Throughout her undergraduate career, Allyson studied flute under Dr. Adeline Tomasone and performed in numerous masterclasses with flutists such as Bonita Boyd, Erica Peel, and Marina Piccinini. While in high school, Allyson was a frequent attendee of PMEA festivals, participating in the district, region, and all-state levels. In her extensive Music Theory studies, Allyson has conducted research on various topics. Her paper, "Slow Burns and Performance Practice: A Not-So Rapid Analysis of Jennifer Higdon's rapid.fire" was presented at Temple University's 2021 Symposium for Undergraduate Research. Her original composition, echoes for flute and bassoon, was performed at Temple University's Wind Symphony concert on November 13th, 2020.
Allyson loves the excitement of learning a piece, as well as the opportunity to share this experience with others. Some of her favorite composers are Higdon, Prokofiev, Shostakovich, Tchaikovsky, and Varèse. Allyson has five years of teaching experience and has worked with children of all ages! She believes that taking music lessons should be a fun experience, which is why she chooses to create an individualized curriculum for each student. While developing fundamental skills, students will choose a musical path that resonates with their personal goals. By learning the students' expectations, and passions, Allyson will foster an environment which will allow for the students' love of music to grow!
To listen to Allyson play, please visit her website:
Adeline Cho: voice & violin
Kay Greer: trumpet & french horn
Pat: guitar & upright bass
Jason: guitar, drums, bass
Tom: audio engineering, production
Dave: piano, hammond organ, keyboards